PERISTALTIC PUMPS
The large rollers peristaltic pump design is able to fulfil the needs of a wide variety of applications in water treatment and in the most diverse industries. Chemical, food, beverage, paper, ceramic and mining, among others. Some examples of these applications are:
Water Treatment:
Dosing:
» Milk of lime
» Activated carbon
» Sodium hypochlorite
» Ferric chloride
» Polymers
» Samples
Transport:
» Muds
» Pastes
» Milk of lime
Mining:
Dosing:
» Cyanide
» Xanthate
» Reagents
» Polymers
Transport:
» Mineral pulp
» Sludges
» Pastes
» Polymers
Chemical Industry:
Dosing:
» Pigments
» Aqueous Inks
» Resins
» Detergents
» Aqueous adhesives
» Acids
Transport:
» Abrasive products such as Titanium Dioxide
» Water-based inks
» Difficult products such as Latex
Pulp & Paper:
Dosing:
» Chemicals
» Lime milk
» Additives and dye
» Glues
Transport:
» Pulp paper
» Glues
The revolutionary XXL rollers system and state-of-the-art hoses, offer great advantages compared to other pumping technologies and other peristaltic pumps on the market by allowing easy maintenance, in less time and with longer intervals between maintenance, reducing downtime and operating costs. They have many additional advantages, such as:
Extremely quick and easy assembly and commissioning.
Very little lubricant is required, resulting in a reduction up to 90% of lubricant use, compared to peristaltic shoe pumps
Peristaltic hose, with special internal structure allowing for very high durability and exceptional operating performance.
Abrasion resistance. The more abrasive the fluid is, better the performance of the pump, compared to others. Don't have rotating parts in contact with the fluid. Hose life is not affected by abrasion.
Suction capacity. The use on applications with a need for negative suction, are perfect for the pump. No need for foot valves, flooding systems, etc. The pump can pump air from the suction pipe.
Dry running. The pump can run dry indefinitely without damage. Fluid does not lubricate any rotating parts.
Valve-free. Due to the working principle, there are no need to use valves.
Unsealed. The hose is closed statically. Since we do not have any rotating parts in contact with the fluid we do not need to use any sealing system, such as mechanical seals.
Gentle pumping. No rotating parts in contact with the fluid. Only rubber against rubber at low speed. No damage to shear sensitive fluids.
Reversible pumping. The pump can rotate in both directions just by changing the motor rotation. The tube can be empty after use just by changing the direction of rotation.
Volumetric capacity. The capacity is constant and not affected by the working pressure. The pump is able to dose at different pressures with high accuracy.
INDUSTRIAL VERSION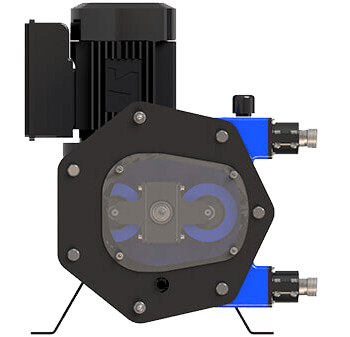 Model I
Available in several sizes from I12 to I55, they cover a flow range from 5 000 l/h to 34 000 l/h.
Model I, is characterized by:
Low starting torque
Low energy consumption
Allow easy and fast hose replacement
Large compression surface between the XXL rollers and the hose, allowing to work with pressures up to 10bar.
The XXL rollers are made of hard anodized aluminium. They allow a very long service life, low weight, and are easy to assemble.
Hoses are internally extruded and rectified for perfect compression.
Axial load-free gearboxes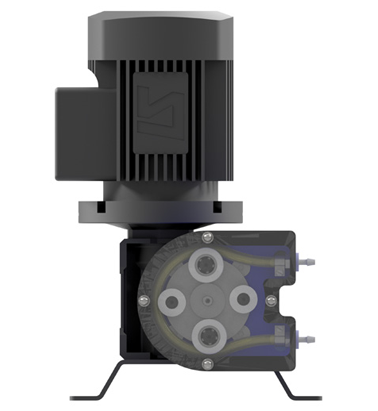 Tube version – Model T05
The T05 industrial tube pump is designed for demanding tasks with pressures up to 4 bar and flow rates up to 26L/h.
Thanks to a very sturdy design that includes large rollers and an industrial gearmotor for 24/7 operation, the T05 pump offers excellent durability.
The pump body is made of high-density polyethylene and is completely airtight. It has a tube break sensor, included in the standard version. All this results in a perfect design for pumping highly corrosive products under safe conditions, avoiding costly losses that usually occur with most peristaltic tube pumps on the market.
Rollers and guides ensure excellent hose compression. Maintenance operations are easy, reducing downtime. The T05 is a very competitive unit, ideal for customers looking for a robust solution with simple and inexpensive electronics.
CHEMICAL VERSION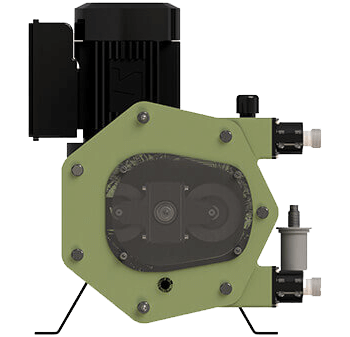 Model C
The Model C, of the chemical version, are available in seven sizes, from C12 to C55, for flow rates from 5 000 l/h to 34 000 l/h. They have the same characteristics and advantages as model I (industrial), complemented by the following standard features:
Tefzel-coated housing and front cover: anti-corrosive, similar to PTFE
Hose leakage sensor included as standard: Floating sensor / Potential-free contact / Easy connection and installation (M12 connector)
Drainage system: Prevents accumulation of liquid inside the pump body
FOOD GRADE VERSION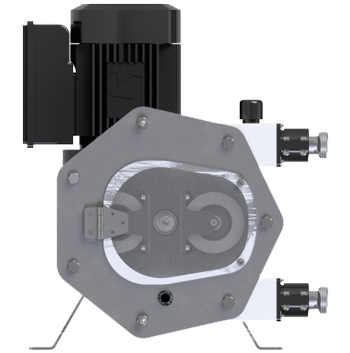 Model F
The food grade version, available in seven models from F12 to F55, adds to the basic features and advantages of large roller pumps, features suitable for the food industry:
Food grade hose: FDA Certified / Internal Extrusion (reduces risk of fluid contamination)
Sanitary connectors: DIN 11851 or TRI-CLAMP connections
Stainless steel base and front cover
Easy CIP cleaning: Easy removal of roller / Easy and quick opening of front cover