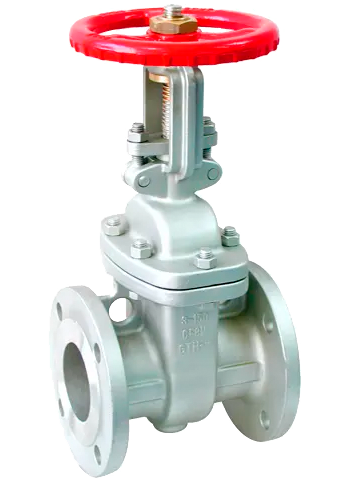 LOW PRESSURE GATE VALVE
KSD-GTF
The bonnet of a low pressure gate valve protects the internal parts of the gate valve by providing a leak-proof seal.
Therefore, it can be removed for repair or maintenance.
Gate valves can be equipped with screw-in, union, bolted or pressure seal bonnets, depending on the application.
In a bolted bonnet gate valve, its valve body and bonnet are bolted and flanged together.
Bolted bonnet gate valves are mostly used in steam piping systems: They ensure sufficient sealing in low-pressure applications.
Unlike threaded and union bonnet valves, the bolted bonnet connection requires a gasket to seal the joint between the body and bonnet.
Features
Cast steel body construction providing liberal strength to meet most conditions
Integral yoke & bonnet; Outside screw & yoke, bolted bonnet
Single flexible wedge disc compensates for deformation of body due to pipe stresses
Seal welded seat ring eliminates leak path behind rings and for long trouble-free service
Available in flanged end connection; butt weld end also available
Body Material
DIN 17245 GS-C25
Temperature
-20°C to 425°C (-4°F to 800°F)
PN
PN16 to PN63
Standards
Basic design to DIN 3352
Face-to-Face acc. to DIN 3202-F4
Flange Dimensions acc. to DIN 2543
Inspection & test according to EN 12266-1
*For non-horizontal installation, please ensure to consult with us separately, as special request must be generated to ensure proper function.