WATER SERIES BUTTERFLY VALVES
The Water Series Butterfly Valves have specific characteristics to meet the water industry standards.
Available in concentric and eccentric versions.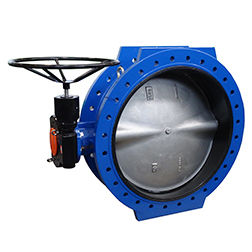 Concentric Butterfly Valve
Concentric disc butterfly valve, designed for industrial applications in general, with different types of configuration and construction in accordance with the needs of the application. Wafer type construction for mounting between flanges, LUG type and flanged in accordance with the different types of existing flange standards (DIN, ANSI, BS, JIS).
MATERIAL SPECIFICATIONS
Body – Nodular cast iron, carbon steel, stainless steel
Butterfly – Nodular cast iron, carbon steel, stainless steel, bronze, duplex
Seat – EPDM / NBR / Other materials available
Shaft – Stainless steel, duplex
Coating – Epoxy paint 250 microns
BUILDING STANDARDS
Flanges – EN1092-2 PN10 / PN16
Face to Face – EN558-1 serie 13 / serie 20
Drawing – EN12266
Assembly – EN593
Actuation – Manual / Pneumatic / Electric
Tests – EN 12266 / ISO 5208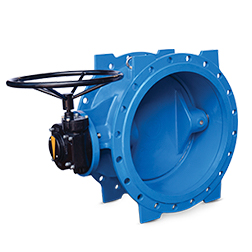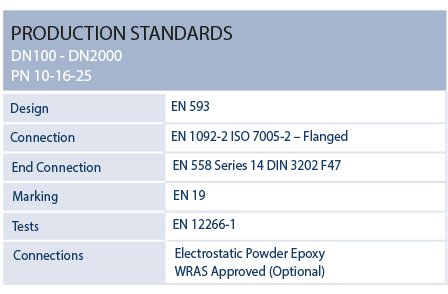 Eccentric Butterfly Valve
Double eccentricity valve, construction according to EN593 standard, 100% sealing guaranteed by a gasket with "T" section located on the outside diameter of the disc and steel seat of the welded stainless steel body. Exterior and interior Epoxy coating with WRAS approval for drinking water.
FEATURES
Double Eccentric structure ensures low operating torques with zero leakage performance.
Inner and outer surfaces of the valve are coated with average 250 microns thickness of fusion bonded epoxy. (FBE) min (FBE) min 300micron available upon request.
Higher thicknesses are available upon request.
Low moments are obtained by decreasing the friction through self-lubricating bushings.
Can bear high stretching stresses on the pipeline through the ductile iron body and disc
High impact resistance.
Reduces the pressure loss through the disc designed in accordance with the direction of flow
Pressure loss is at minimum level by double shaft design.
Sealing gaskets made of EPDM (default), NBR or VITON supplied according to operating conditions and demand can be disassembled and replaced easily in field conditions.
With the o-rings on the bearing bushings, disc pin holes are protected against corrosion (Dry shaft)
Retaining ring is assembled to the disc with imbus bolts, the disc is protected against corrosion by placing o-rings under the bolts.
Through the gearbox assembled on top flange, it maintains openning/closing the valve with very low torques.
Lifting lugs and feet ease the weight balance during transport and installation.
With the stainless steel welding, in the valve will have higher sealing resistance.
SCOPE OF APPLICATION
Chamber installation
Installation in plants
Pipelines
Water treatment plants
Pumping stations
Tanks and reservoirs
Seawater applications
Power plants (cooling water pipelines)
Industries