INDUSTRIAL DIAPHRAGM VALVES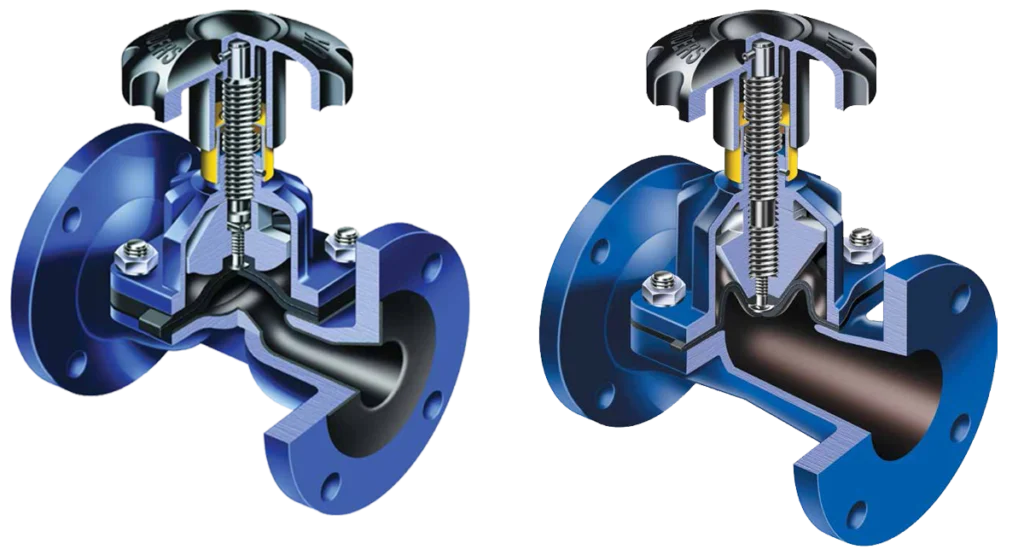 Why Diaphragm Valves?
Diaphragm valves have numerous differentiating features compared to other types of valves.
Corrosion Resistance
Saunders lined valves are the first choice for highly corrosive applications. We offer an extensive range of linings and diaphragms to suit most applications. This wide selection of body lining and diaphragm materials provides an effective and economical solution by eliminating the need for exotic alloys. Our extensive range of valve options include elastomer and fluoropolymer linings, designed especially to combat corrosion.
Abrasion Resistance
Saunders polymer technology provides superior abrasion resistance. The KB straight through valve will handle up to 100% solids and ensure leak-free shut off with a soft rubber diaphragm.
Leak Tight
In pressure and vacuum services, Saunders diaphragm valves deliver 100% leak-tight shutoff in accordance with standards MSS SP-88 and BS EN 12266-1, even after thousands of operations. This reduces processing and handling costs by eliminating emissions commonly associated with other valve designs.
Operating Mechanism Isolated from Line Media
All working parts of the valves are isolated from the line media and positive closure is obtained even on
frequent cycling or with entrained particulates in the line, unlike other valve types.
Easy Maintenance
A three-part design allows maintenance and actuator retrofitting without removing the valve body from the pipeline. Overall, this results in lower cost of ownership compared to other valve types.
Suitable for Control
Throttling and control characteristics are enhanced by a streamlined flow path that is cavity free and provides excellent flow control capabilities.
Linear Operation
Linear movement of the valve eliminates the rotational seat wear that is characteristic of quarter-turn valves, resulting in a longer service life and reduced total cost of ownership. This results in a longer service lifetime.
Installation Versatility
The Saunders valve can be installed in any position without affecting its operation. However, we recommend installation to be at least six times the pipe diameter from a bend or pump (ten times the pipe diameter if the valve is used for control).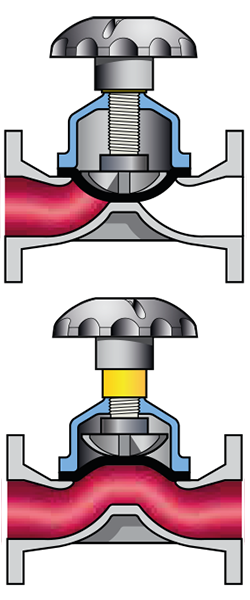 A Type
Hand wheel sized for comfortable grip and easy operation
Lubricated for life, and protected from dust, dirt, moisture and atmospheric contaminants
Wide range of body materials available
Diaphragm replaceable with valve in-line
Paint finish resists environmental attack
Wide choice of diaphragm materials, which isolate all bonnet working parts from the line fluid
Reinforced diaphragms give long life and leak free operation
Screwed, flanged or welded end connections that adhere to various international standards
Different lining options available to handle all fluids
Compressor provides support to the diaphragm in all positions, improving the life of the diaphragm
Yellow valve indicator provides visual indication of the position of the valve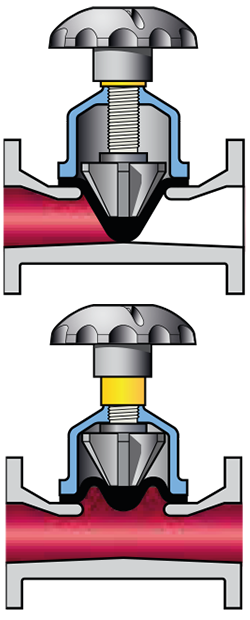 KB/K Type
Hand wheel sized for comfortable grip and easy operation
Lubricated for life, and protected from dust, dirt, moisture and atmospheric contaminants
Double threaded stem reduces handwheel turns
Diaphragm replaceable with valve in-line
Paint finish resists environmental attack
Resilient diaphragm handles abrasives and suspended particles in the line, but still provides positive shut-off and isolates all bonnet working parts from the line fluid
Reinforced diaphragms give long life and leak free operation
Screwed and flanged options in a wide range of body materials
Body lining including glass and a wide range of elastomers
Smooth non-turbulent body design for unrestricted flow and minimum pressure drop
Yellow valve indicator provides visual indication of the position of the valve