ECCENTRIC BUTTERFLY VALVES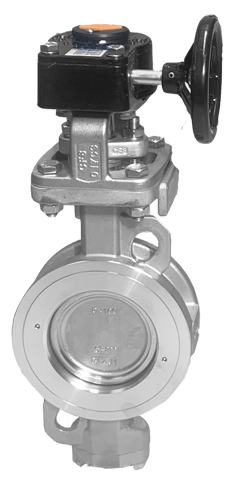 KKD-MS 82 Eccentric Butterfly Valve
Double Offset Butterfly valves are well suited for applications where rubber lined butterfly valves cannot be used due to limited pressure and temperature range. These offer 100% bidirectional disc sealing with soft seats, while metal seat offers uni-directional sealing in high temperature applications. On request, the metal seat option can be made bi-directional to EN 12266-1 Class V.
A double offset butterfly valve has two offsets from the valve body's center. This creates a cam action of the disc in the seat, which reduces the torque required to operate the valve.
The double-offset butterfly valve is designed to be used in applications requiring greater resistance to the pressure.
In general, metal seats incorporate a metal-to-metal seal between the seats and ball of the valve assembly.
In general practice, metal seats can stand up to extreme flashing, hydraulic shock, abrasive process fluid, and high temperatures.
They are also ideal for high erosion or corrosion applications.
Features:
Anti-Blow-Out Stem: Hard-chrome plated rigid one-piece-stem design offering overall strength. Stem components are ISO 5211 compliant. Stem material and disc position are marked on the top of stem.
Gland Flange: Adjustable two-piece gland flange ensures even packing load.
Gland Packing: Five gland packing systems to suit different applications.
Self-Lubricant Bush: Bush in RPTFE+S.S.316L material reduces stem's friction factor.
Valve Seat: Bi-directional zero leakage with soft seat. FCI 70-2 Class IV-V with wear-resistant metal seat. API 607 fire-tested with Fire-safe seat.
Valve Disc: Hard-chrome plated disc with streamlined design which lowers noise and turbulence.
Floating Retainer Ring: No-screw floating design provides positive tight shut-off of seat. Fastening this ring into internal tooth of valve body, the spring and lock pin will pop up and fix retainer ring and valve body in correct position. Surface roughness is 125-200AARH.
Valve Body: Compliance with API 609 & ASME B16.34.
Lock Pin and Spring: While Retainer Ring moves to locking position, the spring pops up and pushes pin locked in Retainer Ring.
Thrust Ring: Rigid S316L ring keeps stem in accurate position.
Standards:
Design: API 609, ASME B16.34, MSS-SP-68
Face to face: API 609, ISO 5752, EN-558
Flange dimension: ASME B16.5, DIN 2632/2633, DIN 2634/2635
Connection: Wafer, Lug, Flanged
Fire-tested to API 607
Temperature: Metal seat -29°C ~ 260°C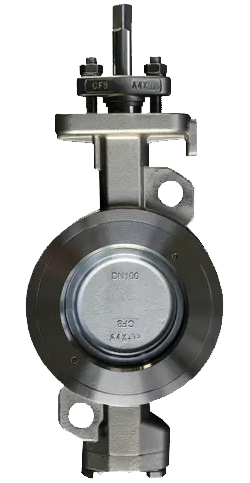 KKD-83 Eccentric Butterfly Valve
Triple Offset Butterfly Valves with metal seat are designed for high-temperature and high-pressure applications, and are well-suited for applications requiring bi-directional zero leakage. These provide space and weight savings while minimizing installation and maintenance costs.
The triple offset butterfly valve has 3 offsets. In addition to the two offsets in the double offset butterfly valve, the third offset is achieved by altering the geometry of the sealing component. The seat is machined into an offset conical profile resulting in a right-angled cone. The third offset eliminates rubbing and reduces wear between the seat and seal ring during operation. There is no friction as the seal ring will immediately leave the valve seat when the valve isopened. Contact is only only made at the final point of closure. Once the seat and seal ring are in contact, torque is applied to create a bi-directional bubble tight seal.
A triple offset butterfly valve has three separate offsets from the valve body's center. The 'cam-controlled' and 'right-angle' conical seal design ensures that the metallic sealing components do not touch until the valve is finally closed. This results in repeatable sealing and a significant increase in valve life.
Triple offsets are generally used in applications similar to gate valves, where and tight shutoff and/or quarter turn actuation is desired.
Features:
Tight Shutoff: Shutoff classes from ANSI IV to VI are available to meet customer requirement. Standard seat material is PTFE/RPTFE sealing ring, or 304+graphite multi-layer construction for high temperature applications. Metal to metal sealing face also available with CLASS IV leakage rating
Sealing Face: Sealing face is tightly fixed on valve disc. Depending on the service condition, sealing material can be chosen from PTFE soft seat for general application, 316+Graphite for high temperature applications, and metal to metal seal face for abrasive services.
Stem Design: Strong single piece shaft minimizes stem deflection, and allows bi-directional sealing effect with bubble tight leakage rating. Another feature of the stem is the blowout proof design, which improve the safety of operation.
Firesafe Design: Metal to metal sealing face with graphite seal and packing, allows inherent firesafe functions.
Uni- and Bi- directional sealing: KLINGER die Erste offers uni-directional sealing effect on standard butterfly valve delivery. When required, bi-directional seat ring is available with complete new independent and self-adjusting seat ring, which is in contact with the disc.
Standards:
Design: API 609, ASME B16.34, EN 593
Inspection: API 598, EN 12266-1
End Connection: Wafer, Lug, Flange, ASME B16.5, EN1092 -1
Face to face: API 609 B Short Pattern, ISO5752 Series 13, EN 558, EN 593
Flange dimension: ASME B16.5, DIN 2632/2633, DIN 2634/2635
Pressure Rating: ANSI CL150/300/600/900, PN16/40/63
Fire-tested to API 607
Temperature:
PTFE: up to 200°C
Graphite: up to 400°C
Metal: up to 600°C