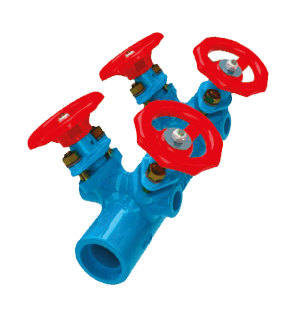 MANIFOLDS
KLINGER Manifolds enable space optimization and allow for simple installation, providing welding points and connections reduction, Having multiple valves incorporated in a single body.
In addition, the solution, allows easy valve maintenance, and also has a watertight seal.
With a maximum operating pressure 63 20 bar, KLINGER Manifolds can be used both at the entrance to the dash system, where steam is distributed to the various branches, as well as in the condensate collection, where the steam traps discharge is connected to the manifold valves, which , is connected to the condensate return line. KLINGER Manifold can also be supplied with pre-installed shut-off valves, steam traps and filters.
CONEXÕES
Top: 1½ SW;
Extensions: ½ / ¾ / SW / NPT / BSP