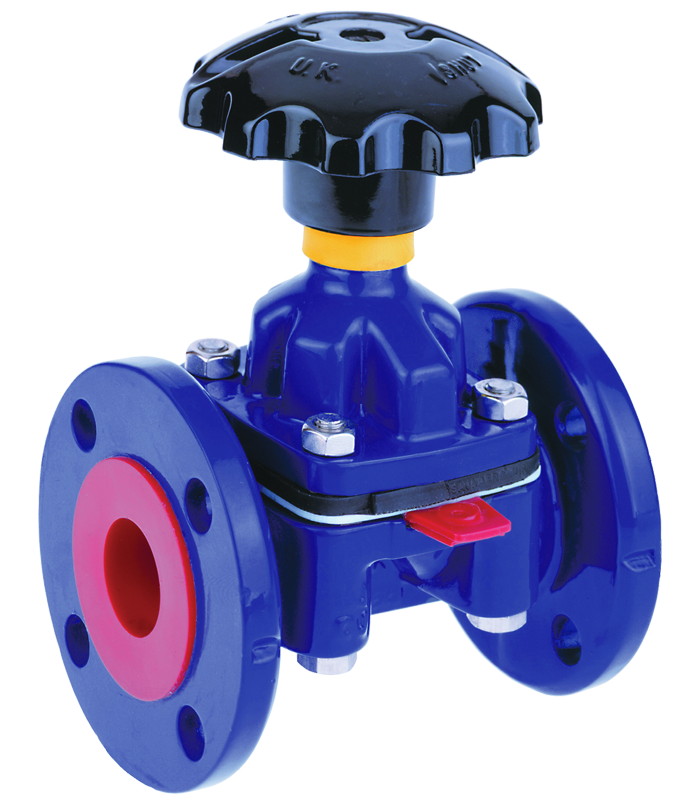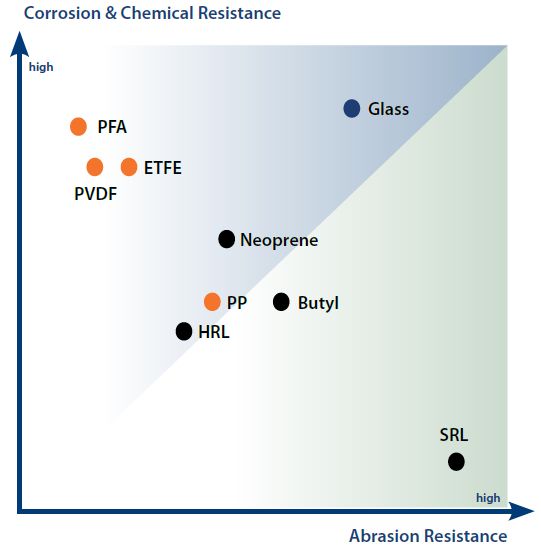 A TYPE LINED DIAPHRAGM VALVE
A Type Lined Diaphragm Valve is versatile and extensively used in industrial applications. Can handle up to 15% solids (depending on process conditions). Perfect valve for on/off or control applications on corrosive processes.
PLASTIC LINING
PFA Perfluoroalkoxy SG Iron (white): Excellent suitability for concentrated strong acids at high temperature, aromatics, aliphatic and chlorinated solvents
PFA Perfluoroalkoxy Stainless Steel (white): Demonstrates the highest chemical resistance of all Saunders linings and is ideal for high purity applications.
ETFE Ethylene Tetrafluoroethylene (red): Suitable for strong acids, salts in water, solvents at medium temperature. ETFE has the highest abrasion resistance of all the fluorocarbon linings.
PP Polypropylene (light grey): Economic solution for mineral acids, salts in water, de-ionised water and effluent treatment chemicals.
PVDF Polyvinylidene Fluoride (black): Suitable for mineral acids, salts in water, water and effluent treatment, additionally it is the best solution for wet chlorine gas or chlorine in water.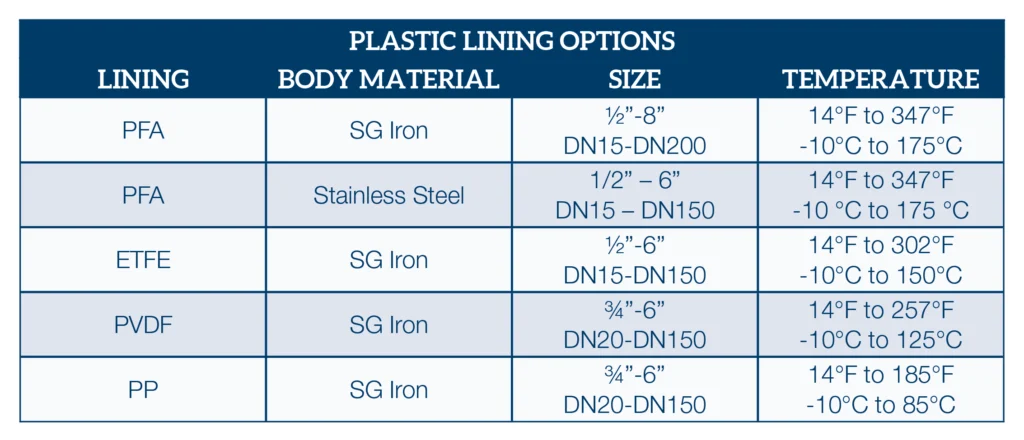 GLASS LINING (BLUE)
Used in many different applications, including strong acids. Very high corrosion and abrasion resistance within a wide range of temperature. Note that glass is not suitable for applications where thermal cycling occurs.

RUBBER LINING (BLACK)
HRL Hard Natural Rubber (Ebonite): Used for salts in water, diluted acids, de-ionised water, plating solutions and potable water. HRL has better chemical resistance than SRL.
Butyl Isobutylene Isoprene: Great for corrosive & abrasive slurries, and acidic slurries. Additional applications are salts in water, dilute acids and alkalis, and lime.
Neoprene Polychloroprene: Perfect solution for a combination of abrasive slurries containing hydrocarbons, sludge oils and also sea water.