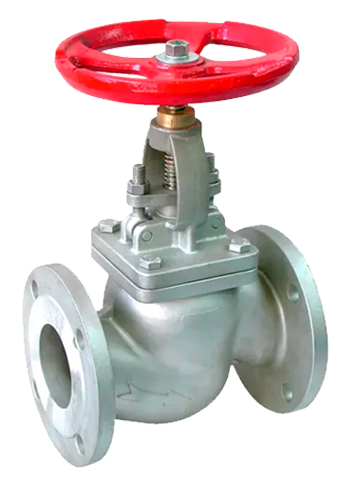 LOW PRESSURE GLOBE VALVES
KAD-GBF
Low Pressure Globe Valves for general purpose are primarily used for process throttling.
They can also be considered general purpose flow control valves used in high temperature applications.
Globe Valves are given their name due to their spherical body which is like a globe.
The two halves of the body are separated by an internal baffle.
Features
Cast steel body construction providing liberal strength to meet most conditions
Integral yoke & bonnet; Outside screw & yoke, bolted bonnet
Seal welded seat ring eliminates leak path behind rings and for long trouble-free service
Available in fl anged end connection; butt weld end also available
EN10204-3.1 Material certifi cate available
Body material
DIN 17245 GS-C25
Temperature
-20°C to 425°C (-4°F to 800°F)
PN
PN16 to PN63
Standards
Basic design to DIN 3356
Face-to-Face acc. to DIN 3202-F2
Flange Dimensions acc. to EN 1092-1
Inspection & test according to EN 12266-1
*For non-horizontal installation, please ensure to consult with us separately, as special request must be generated to ensure proper function.