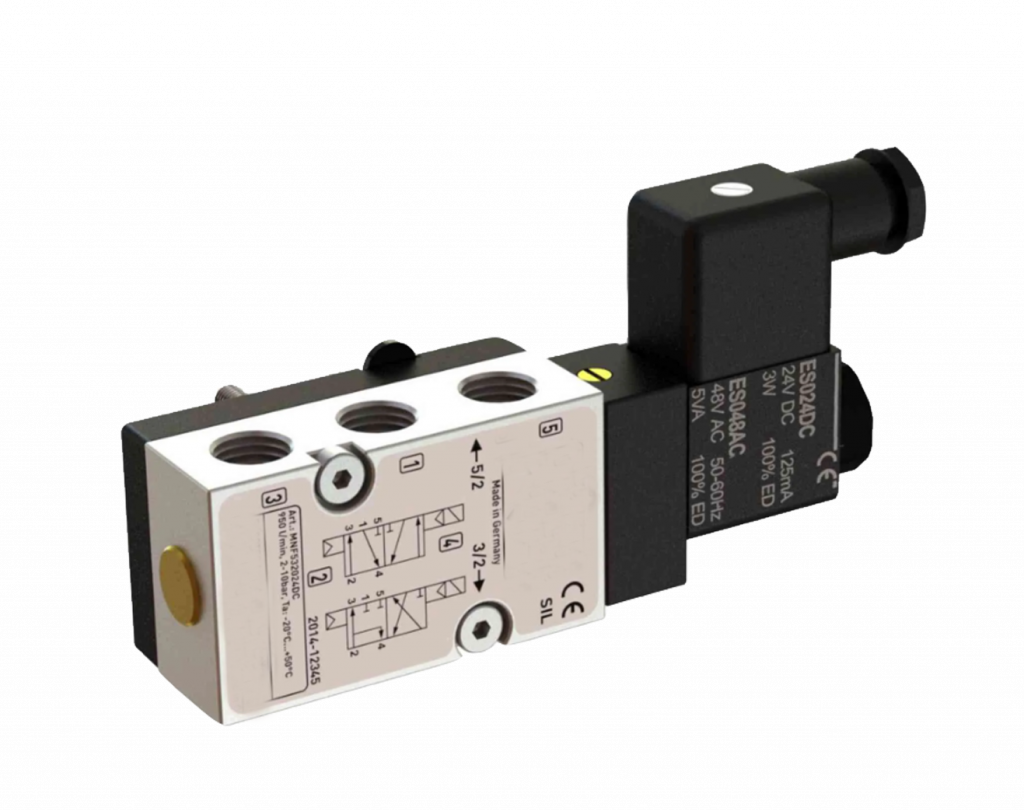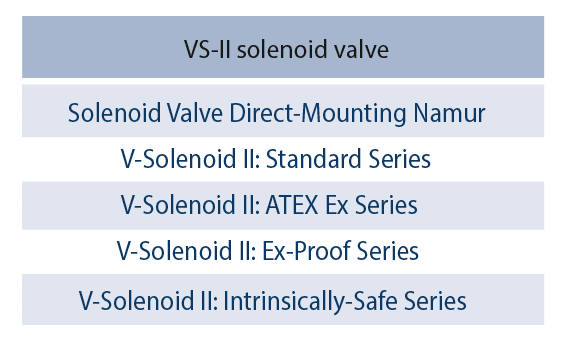 SOLENOID VALVE
A solenoid valve is an electrically controlled valve.
The valve features a solenoid, which is an electric coil with a movable ferromagnetic core (plunger) in its center.
When electrically energized or de-energized, they either shut off or allow fluid flow.
Solenoid valves are used wherever fluid flow has to be controlled automatically.
FEATURES
Multi-million cycle life reliability. The innovative design and all composite construction means the V-Solenoid II™ is not affected by wear or corrosion
Set 5/2 or 3/2 function simply by turning the rotary sealing plate 180°, dramatically reducing parts inventory
High airflow: Cv > 1.1 (1100 L/min) (I-Safe Cv=0.8)
Manual override built in – no extra parts required
Operating temperature range: -4°F to +140°F (-20°C to +60°C)
For extreme environmental corrosion protection, all port threaded inserts and armature components can be supplied in stainless steel
Direct mounting conforms to Namur VDI/VDE 3845 standard
Exhaust feedback – provides spring chamber with instrument air preventing corrosion
Very competitively priced with a wide variety of available options
PATENTED POPPET VALVE DESIGN
Unique patented poppet valve technology provides high flow, fast response, high temperature range and multi-million cycle life reliability
Patented poppet valve design minimizes friction by utilizing dual static rolling diaphragmpoppet seals
Advantage of this design is its suitability for cryogenic environments. Wide operating temperature range -4°F to +140°F (-20°C to +60°C)
PATENTED ROTARY SEALING PLATE
By turning the patented rotary sealing plate 180° the operating mode can be easily changed from 5/2 to 3/2 function
The V-Solenoid II can to be used on both double acting and single acting actuators
Many competitors' solenoid valves either work 5/2 or 3/2 function requiring stocking for both solenoid valves