GRAPHITE LAMINATED
Gaskets on the basis of graphite are suitable for temperatures between -200 °C and up to 460 °C, and offer resistance against a broad range of chemicals. Equipped with an anti-stick finish specifically developed for this purpose, KLINGER graphite-based gasket materials are easy to remove from the flange – even after exposure to elevated temperatures.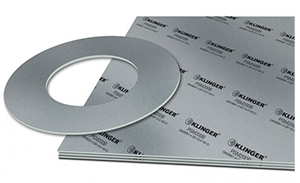 KLINGER PSM
The pure graphite gasket with rough sheet metal insert.
Glueless gasket material consisting of expanded graphite and a 0.1mm thick tanged stainless steel insert. The material is free from resins, impregnations or other organic compounds. Therefore it is free of eventual toxic risks. Stable physical properties over the whole temperature range.
KLINGER Graphite Laminate PSM is suitable for hot water and steam at high temperatures up to 450°C.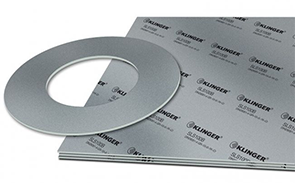 KLINGER SLS
The pure graphite gasket with a smooth stainless steel insert. KLINGER Graphite Laminate SLS is especially suitable for weak flanges at high temperatures up to 450°C.
The gasket material consists of expanded layers of graphite, wich are stuck to a 0.05mm thin smooth sheet metal foil made of 1.4401. The adhesive layer is applied via a precisely controlled process, wich makes it possible to keep the amount of adhesive below 1% of the amount of graphite in order to ensure uniform distribution of the adhesive.
Thanks to its graphite based conformability characteristics, it is suitable for low bolt-load and damaged flange scenarios. Resistant to virtually any type of medium, it is also temperature resistant (up to 450°C) and highly compressible.