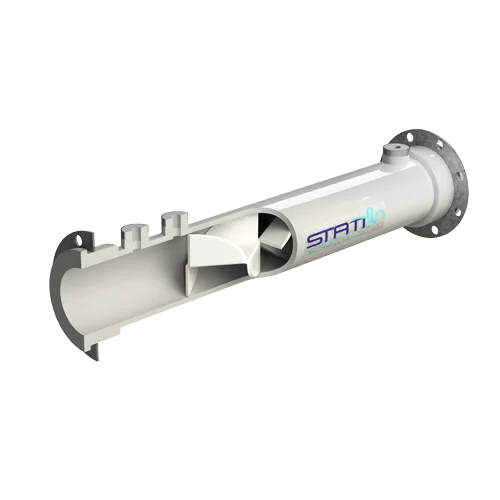 PLASTIC STATIC MIXER
Statiflo Series 400 Pipe Mixers: Plastic construction for cost effective general purpose and corrosion resistant duties. Fixed mixing elements housings with flanged/threaded ends or with coupling connections. Optional injectors and sample points. Optional injectors and sample points. Our Series 400 Pipe Mixers are also available in other plastics such as PP, PE, PVDF or cPVC.
MARKET-LEADING MIXING ELEMENT DESIGNS
Supplied with fixed STS mixing elements, with adjustable element geometry to meet your specific maximum headloss or maximum overall length requirements.
AVAILABLE FOR ALL PIPE SIZES
Diameters available range from as small as DN15 (1/2") up to DN300 (12").
SUPERIOR MICTURE QUALITIES ACHIEVABLE
Superior mixture qualities achievable Designed to achieve a Coefficient of Variation (CoV) of 0.05 or less by the discharge of the mixing elements for miscible systems – meaning you can take a representative sample at the downstream end of the mixer.
ACCESSORIES TO COMPLEMENT
Available with optional flanged or threaded injection/sample branches.
MATERIALS TO SUIT YOUR REQUIREMENTS
Available in uPVC, PE100, Polypropylene, PVDF or cPVC.