OUR RANGE OF TAP IN PRODUCTS
KLINGER's range of Tap In Products provides efficient and safe solutions for both ductile iron and PVC pipelines.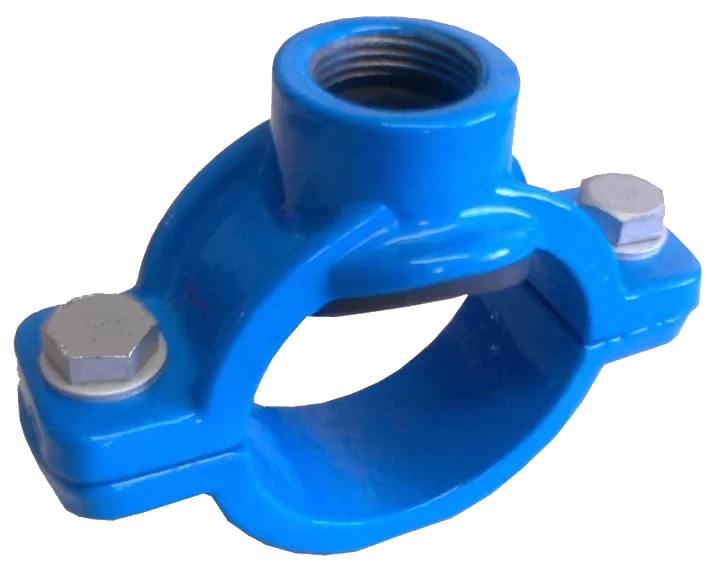 DUCTILE IRON SADDLE FOR PVC PIPE
Ductile Iron Saddles for PVC & Ductile Iron pipe are dedicated saddles specific to PVC pipe or Ductile Iron pipe.
Design Advantages
The saddle head includes a moulded rubber seal that extends below and up into the saddle outlet. This ensures an effective seal and that the rubber seal does not fall out during transport resulting in it being misplaced. The saddle body is drilled and tapped to receive the tightening fasteners, eliminating the need for loose nuts and washers. These saddles can not be used on other pipe materials.
Easy to Install
Installation of a Ductile Iron saddle on PVC or Ductile Iron pipe is extremely simple, requiring only a spanner to tighten the galvanised steel or stainless steel bolts.
Pipe Size and Outlet Size
A dedicated range is available for pipes from DN50mm to DN300mm with branch outlet sizes from 1/2" to 2" BSP female screwed sockets. Reducing bushes are available for different outlet diameters.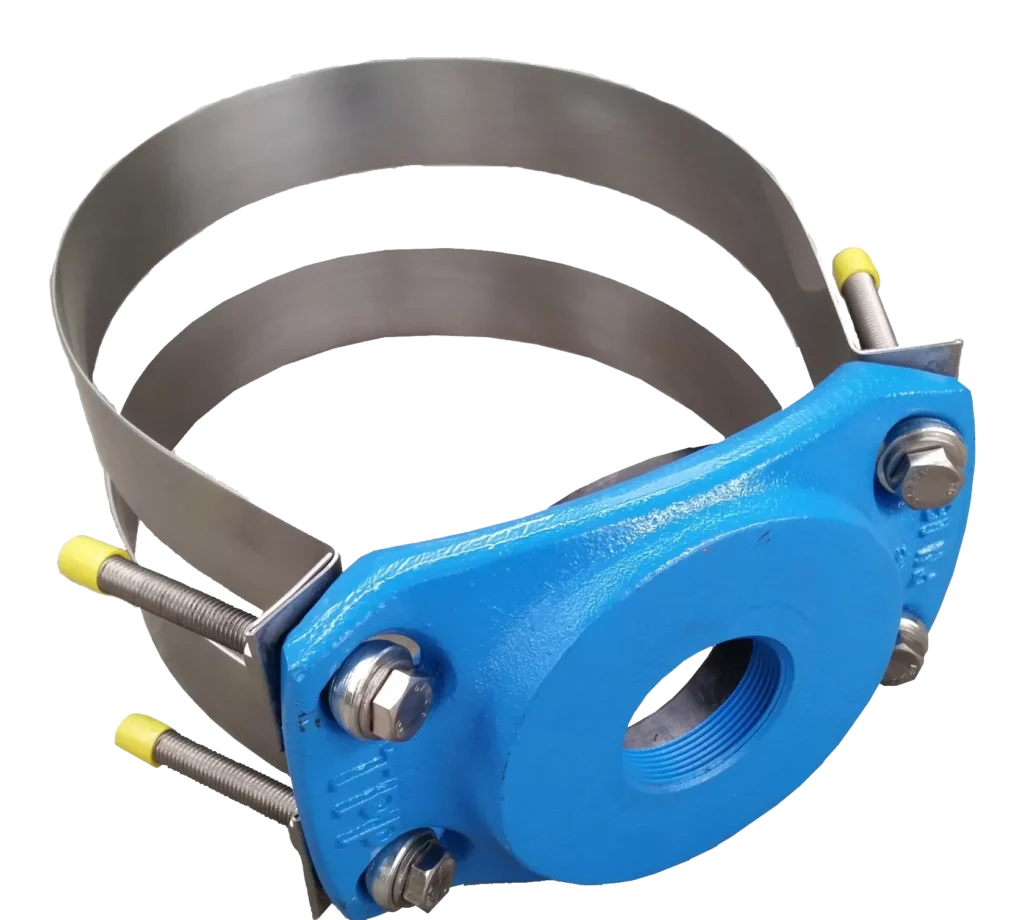 TAP IN FLEXIBILITY BUFFALO SADDLES
Buffalo Saddles are designed to offer the installer a universal saddle that will accommodate almost all rigid pipes diameters of a single nominal bore.
Allows for Adjustment
The Buffalo Saddle utilizes a stainless steel strap band that is tightened via fasteners on each side of the saddle head. The length of the fastener enables the strap band to be assembled around pipes of up to 20mm diameter variance. Single strap and double strap saddle heads are available with BSP screwed outlets from DN20 – DN100mm or flanged outlets from DN50 – DN100mm.
In conjunction with our Under Pressure Drilling kit, Buffalo Saddles and Easi Tees enable quick, economic and trusted Tap In solutions.
The Range
For pipes from DN50mm – DN600mm with branch outlet sizes from DN20mm – DN100mm.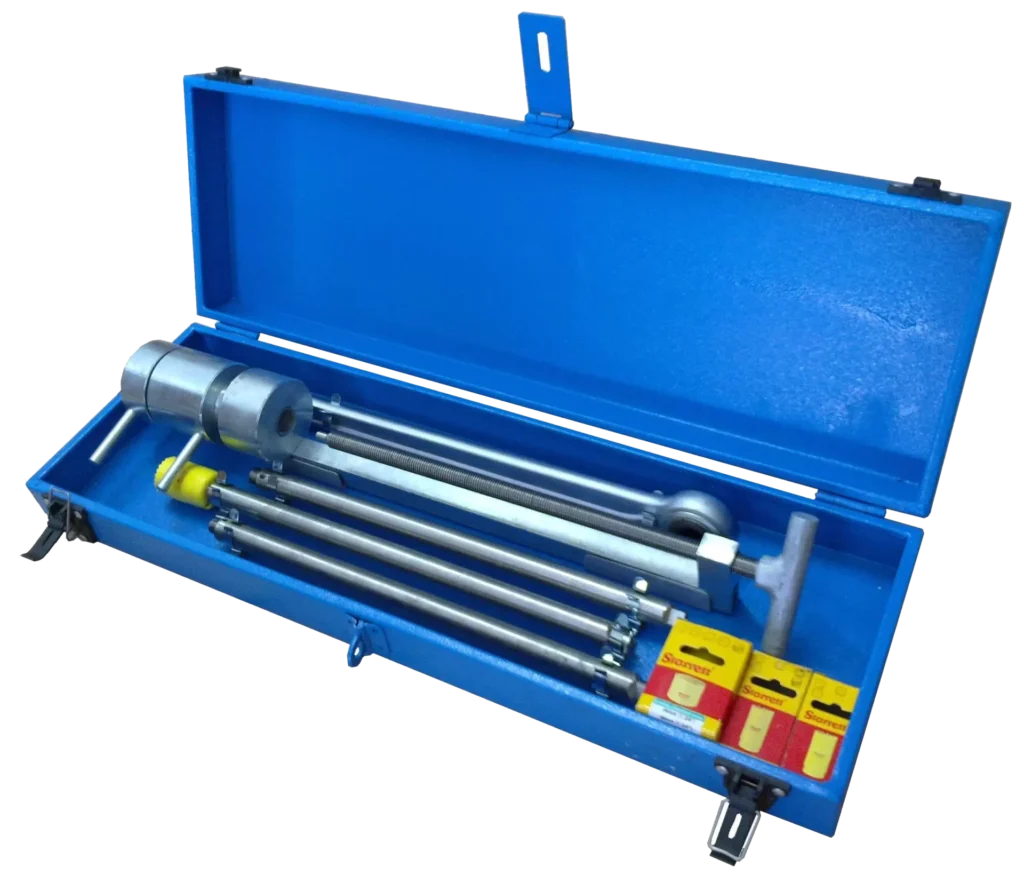 PRECISION UNDER PRESSURE DRILLING TOOLS
Under pressure drilling is the precise process of drilling a hole into a flowing pipe system without leaking its contents or interrupting the flow.
Application
We design and manufacture tapping saddles and tees that can be tailor-made to your individual requirements, you install them and tap into a live operational pipeline with an Under Pressure Drilling (UPD) kit. If customers do not want to purchase a UPD, we have the facility to Tap In for our customers using our in house equipment.
Complete Solution
Under Pressure Drill kits are sold neatly packed in a robust steel box ready for use.
The Range
Under Pressure Drill Kits are available with cutting heads from DN15 – 150mm.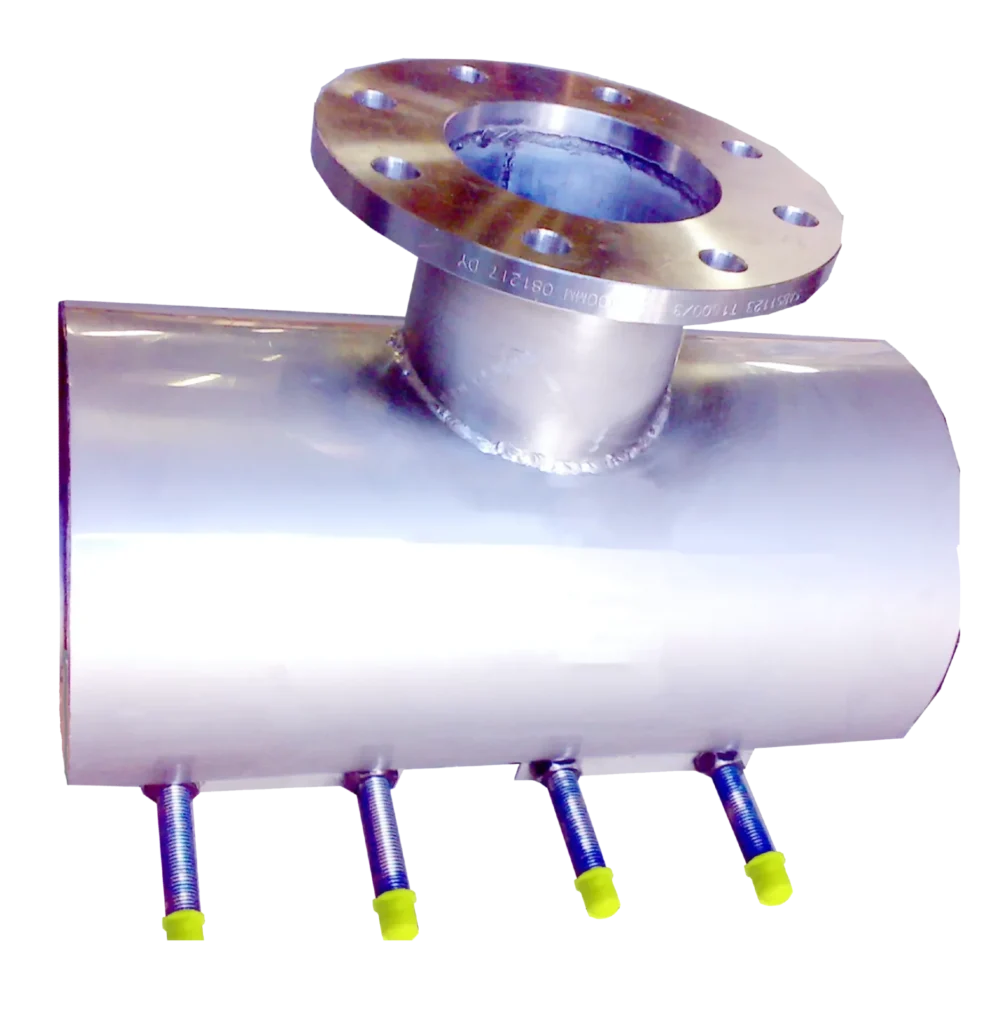 STAINLESS STEEL FULL CIRCLE ULTRA SADDLE AND TEES
Ultra Saddles and Tees are available in various clamp lengths (up to 600mm wide) and are suitable for virtually any pipe material.
Permanent Tap In Connection
Supplied complete with stainless steel armour plate vulcanized into the rubber seal at the time of moulding, offering a permanent tap in solution. Available for pipe sizes from DN40 – 600mm. Outlet size DN15 – 50mm.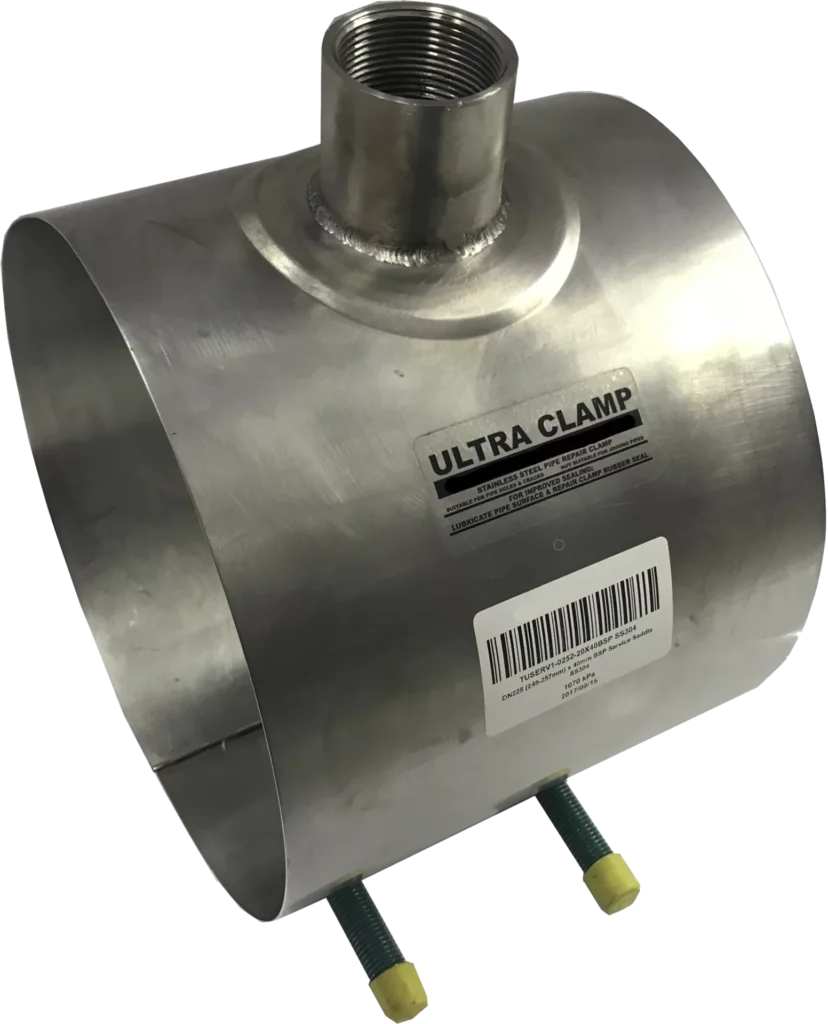 STAINLESS STEEL RUBBERIZED ULTRA SERVICE SADDLES
The Ultra Service Saddle is designed utilizing a contained self-energized rubber seal, offering a permanent tap-in solution.
For a permanent and simple service saddle tap in solution for almost all pipe materials.
This enables the product to accommodate higher pipeline working pressures than conventional stainless steel saddle clamps that utilize a grid-like mat compressed onto the pipe outer circumference.
Application
The Ultra Service Saddle range is a comprehensive range of stainless steel pipe tap-in products. They can be used to provide a tap-in point from DN15mm to DN50mm.
The Range
A comprehensive range is available for pipes from DN40mm to DN350mm with branch outlet sizes from DN15mm to DN50mm. The branch may not exceed more than half the diameter of the tapped pipe. This product can not be used for joining pipes.