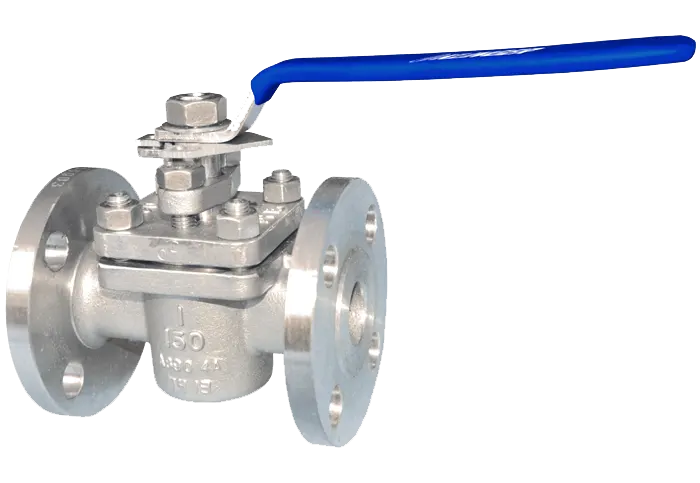 KPD PVF PLUG VALVES
Self-lubricating, maintenance-free KPD PVF Plug Valves are perfect for chemical, refineries, desailination industries and more.
A sleeved plug valve is a non-lubricated valve that achieves sealing through the use of a compressible sleeve as a sealing member. The inert PTFE sleeve completely surrounds the plug and provides a large, circumferential sealing surface from port to port. There is no contact surface so the medium cannot cause damage. PTFE has a self-lubricating effect and therefore requires no maintenance. Sleeved plug valves are used for on/off and throttling service in demanding process applications.
Features:
Bi-directional bubble-tight seal independent of line pressure.
Self-lubricating with little to no maintenance.
PTFE sleeve retained by special 3600 metal lip around the ports.
Free of cavity to entrap flow media.
In-line seal adjustable independent of shaft seal, even when mounted with actuator.
Suitable for use in petrochemical, chemical, mining industries.
Manual operation as standard, with ISO 5211 bracket for actuator mounting.
Available in flanged, butt-welding, and socket-welding connections.
Size range from DN 15~DN600.
Standards:
Basic design and manufacture to API 599
Face to face acc. to EN 558
Flange end dimension to EN 1092-1
Pressure Test to EN 12266-1
Conformity to Directive 2014/68/EU
Also avaliable:
Inverted Lubricated Plug Valve
Jacketed Sleeved Plug Valve
Temperature:
-10°C to 180°C (-14°F to 350°F)
PTFE Sleeved Self-Lubricating Plug Valve
DIN PN 16, ½" – 4″ (DN15 ~ DN100)
DIN PN 16, 5″ – 16″ (DN125 ~ DN400)
DIN PN 16, 18″ (DN450)
DIN PN 16, 20″ – 124″ (DN500 ~ DN600)
DIN PN 40, ½" – 4″ (DN15 ~ DN100)
DIN PN 40, 5″ – 16″ (DN125 ~ DN400)
DIN PN 40, 18″ (DN450)
DIN PN 40, 20″ – 124″ (DN500 ~ DN600)