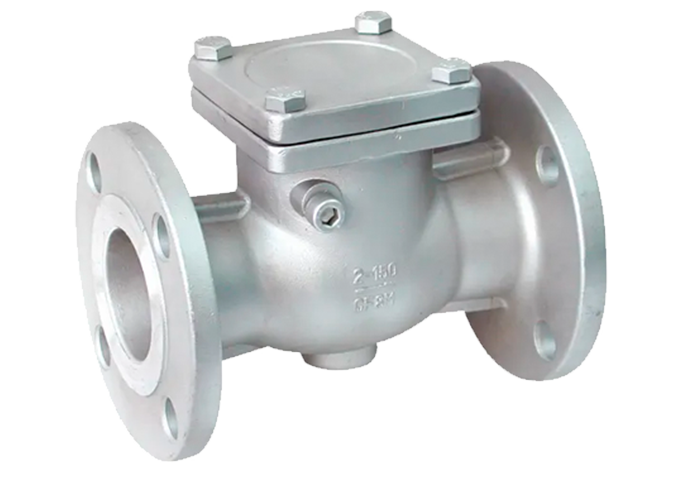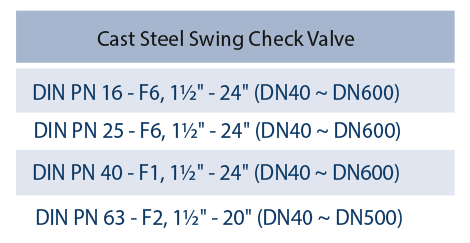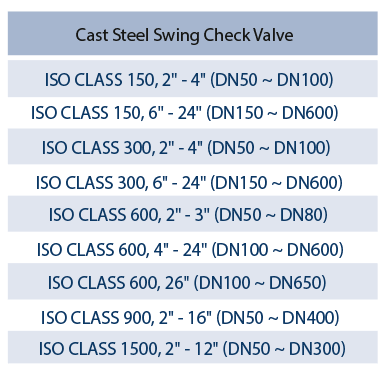 SWING CHECK VALVE
KRD SCF Model
A swing check valve uses a flapper that swings on a hinge or shaft.
A swing check valve is desinged to prevent the medium in the pipeline from flowing back.
As pressure reaches zero, the valve shuts fully to prevent backflow.
Some common applications for swing check valves are firefighting equipment, flood control in sewage systems, and toilet flushing.
Features
Suitable for a wide range of industry and media
Precision, high quality castings
Suitable for both horizontal and vertical installation
Bolted cover; robust construction
EN10204-3.1 Material certificate available
Standards DIN
Basic design to DIN 3840
Face-to-face acc. to DIN 3202-F6
End flange dimension acc. to EN 1092-1
Inspection & test acc. to API 598 or EN 12266-1
Standards ISO CLASS
Basic design to API6D
Face-to-face acc. to B16.10
End flange dimension acc. to B16.5
Inspection & test acc. to API 59
Temperature range:
DIN: Metal seat: -10°C to 450°C
ISO CLASS: Metal seat: -29°C to 450°C
Limitation
If installed in a vertical position, the direction of flow must be in an up-flow direction
If installed in a horizontal position, the valve must be installed with the cover oriented to the top
Note: For non-horizontal installation, please ensure to consult with us separately, as special request must be generated to ensure proper function.