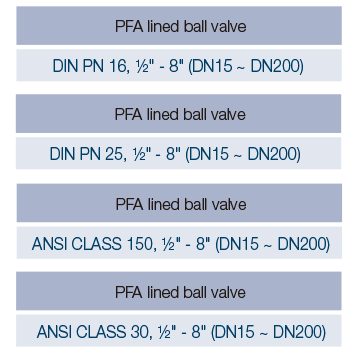 LINED BALL VALVE KHD-LB | LBTB
The Lined Ball Valve KHD-LB | LBTB with PFA lining is suitable for high corrosive media in chemical industry such as sulfuric acid, hydrochloric acid, caustics, pharmaceutical applications, and semicondoctor applications with ultra-pure water.
Due to its design nature, lined ball valves can also be used in vacuum applications.
With these features, lined ball valves exhibit replacement to special-alloy valves in high corrosive applications.
In general, soft seats are made of thermoplastic materials such as PTFE.
They are ideal for applications where chemical compatibility is important and where the tightest possible seal is essential.
However, soft seats are not recommended for dirty or abrasive process fluids.
Soft seats can break under these conditions, causing leaks in the valve.
KHD-LB Lined Ball Valve – ISO direct-mount / ISO regular-mount
A direct mounting flange according to ISO 5211 is standard for these ball valves.
This feature allows an actuator to be mounted without the need for a mounting bracket and drive adapter.
This results in a significant cost reduction, a compact automated unit, and a higher level of safety for operators.
The ISO regular-mounting pad accepts direct mounting of pneumatic and electric actuators.
ISO 5211 is a European standard that specifies requirements for the attachment of part-turn actuators, with or without gearboxes, to industrial valves.
Features
Bubble tight shut-off, precision machined ball and seats guarantees absolute leak free valve.
Full bore offers high KV value equal to the pipeline.
One piece ball-stem design, no possibility of damaging PFA lining on ball due to stem movement.
All lining parts must pass spark test with 15KV high voltage, to ensure no air pathway within lining parts.
Integral mounting pad design ensure no external force exerted on packing or valve top cap position, which leads to enlargement and inconsistency of valve output torque.
Insvestment casting body construction, ensure smooth body surface with minimum machining work
Technical data
Temperature: -29°C TO +180°C
Pressure Range: ANSI CLASS 150 / DIN PN16
Flange Connections: ANSI CLASS 150 / DIN PN16
Operator: lever / gear / pneumatic / electric actuators
Standards
EN10204- 3.1 material certificate available.