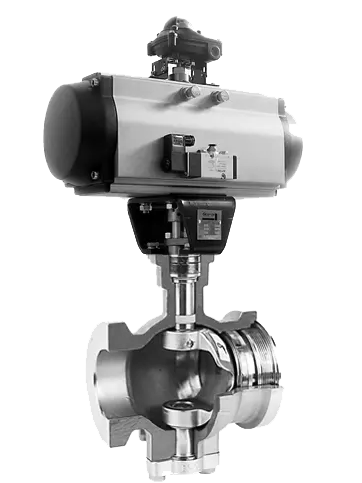 SEGMENT BALL VALVE
A direct mounting flange according to ISO 5211 is standard for this segment ball valve.
This feature allows an actuator to be mounted without the need for a mounting bracket and drive adapter. This results in a significant cost reduction, a compact automated unit, and a higher level of safety for operators.
The ISO regular-mounting pad accepts direct mounting of pneumatic and electric actuators.
ISO 5211 is a European standard that specifies requirements for the attachment of part-turn actuators, with or without gearboxes, to industrial valves.
Features
V-notch provides equal percentage flow control
Uni-body prevents external leakage
Durable metal seat
Soft seat TFM1600 where metal seat is unsuitable
Live loaded packing
Protected peek bearing
ISO 5211 Direct-Mounting for easy automation
Extremely low actuator torque
Advantages
Reduced bore quarter-turn valve
ANSI class 600 pressure rating
Stainless steel, carbon steel, alloy materials available
-4°F ~ 536°F (-20°C ~ 280°C) for metal seat
Face to Face acc. to ISA-S75.04 short version
Inspection acc. to API 598 or EN12266-1 where applicable
Tightness test acc. to ANSI/FCI 70.2 class IV for metal seat