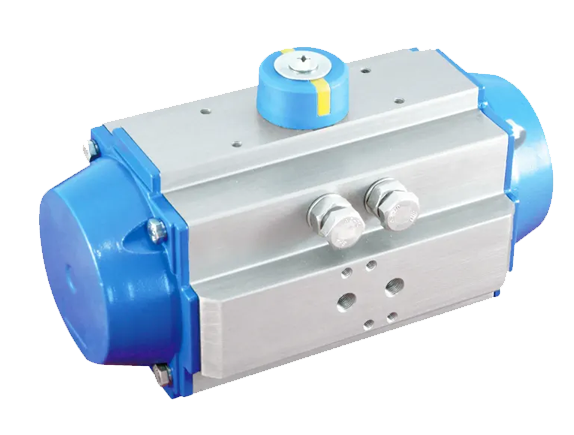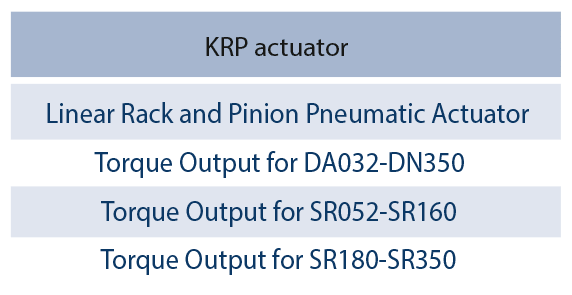 PNEUMATIC
A pneumatic actuator converts energy into mechanical motion by using compressed air.
The instrument air builds up pressure which applies against the diaphragm or piston.
This moves the valve actuator to position on the valve stem and the result is mechanical motion.
Compact design
The KLINGER rack & pinion pneumatic actuator produces linear torque output in a compact design utilizing the same body and end caps for double-acting and spring-return units
Namur mounting
Namur VDI/VDE 3845 and ISO 5211 dimensions on all sizes. No special blocks are required to mount solenoid valves, limit switches or positioners.
Degree of travel
The standard angle of rotation is 90°. Additional travel rotations through 180° are available. Two independent external travel stop adjustments
permit easy and precise adjustment of ± 5° in both directions. This adjustment may be made in either the open or closed position and provides for accurate valve alignment.
High visible position indicator
External open/close indicator as standard, available for all rotations.
Long service life spring
Epoxy-coated special steel springs are pre-loaded with nonmetallic materials. The stainless steel end-cap fasteners are extra long to allow for spring relaxation. All parts are corrosion-resistant.
Alternative operating media
Air pressure operation from 2.5 to 10 Bar (36 to 150 PSI). Water, nitrogen and compatible hydraulic fluids may also be used to power the actuator.
Stainless steel fasteners
All external fasteners are corrosion-resistant stainless steel.
High cycle life
Extruded aluminum body is internally machined and honed to exact specifications. Honing prevents dry spots from forming within the actuator bore and therefore eliminates premature seal failure-a critical aspect to long cycle-life. All external surfaces are hard anodized for corrosion resistance, with all units permanently lubricated at the factory.
Quality assurance
100% of all units are factory pressure and leak tested, and individually boxed for shipment.