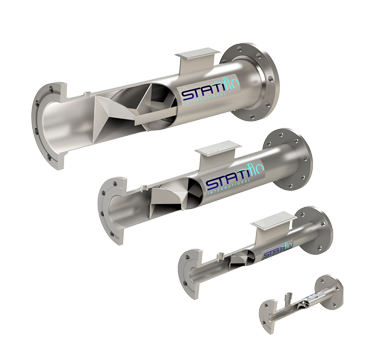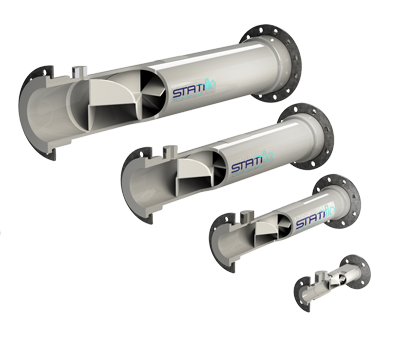 S-TYPE STATIC MIXERS
STATIC MIXER
Statiflo Inline Static Mixers suitable for all process industries. Pre-fabricated and packed – meaning you can have rapid delivery of the items you require. Supplied in a standard construction with EN1092 PN16 flanges and a 1" injection boss. Available in uPVC or stainless steel materials from DN25 (1") to DN100 (4"). We also have a variety of other static mixer types available.
MARKET-LEADING MIXING ELEMENT DESIGNS
Supplied with fixed STL elements. Available with 3 or 4 mixing elements depending on your application.
AVAILABLE FOR ALL PIPE SIZES
Diameters from DN25 (1") to DN100 (4")
SUPERIOR MICTURE QUALITIES ACHIEVABLE
Superior mixture qualities achievable Designed to achieve a Coefficient of Variation (CoV) of 0.05 or less by the discharge of the mixing elements for miscible systems – meaning you can take a representative sample at the downstream end of the mixer.
ACCESSORIES TO COMPLEMENT
Every Statiflo S-Type Inline Static Mixer comes complete with 1 off DN25/1B BSP female injection boss. The injection location plays a key role in improving mixture quality so you can be sure the S-Type mixer will improve your process.
MATERIALS TO SUIT YOUR REQUIREMENTS
Stainless steel or uPVC construction.