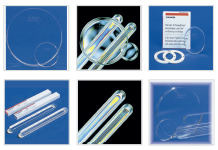 SIGHT GLASSES
KLINGER BOROSILICATE GAUGE GLASSES – Long and circular design
The Quality of a sight (gauge) glass depends mainly on the chemical composition and mechanical strength of the glass material. Analyses and acid/alkali tests constantly ensure a high glass-quality. The mechanical strength is reached by thermal prestressing. KLINGER gauge glasses are suitable for installation in liquid level gauges of almost any type.
We differentiate
Transparent gauge glass
Reflex gauge glass
Round gauge glass
KLINGER TRANSPARENT GAUGE GLASSES
KLINGER transparent glasses are manufactured from "extra-hard" borosilicate glass. The surfaces on both sides are finely polished to ensure optimal transparency.
PRODUCT ADVANTAGES
Excellent mechanical strength
Maximum smoothness and hardness
Extremely resistant to boiler water
Corrosion resistant
Certified according to most international standards
APPLICATIONS
Up to 35 bar saturated steam, reflex glasses provide the optimum solution: they are corrosion resistant and provide a perfectly clear indication. Transparent glasses are preferably used with heavily polluted, viscous or acidic media at service conditions up to 340° bar or temperature up to 400 °C. KLINGER transparent glasses are available in three different Types: A, B, H and TA-28. For the specific overall dimensions and the application range please consult www.klinger.pt.